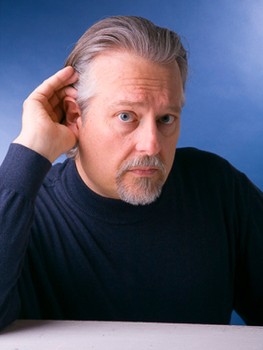 About Don Davis - DonDavis.net
Don Davis has enjoyed a successful and widely varied musical career, not only as a seminal and prolific composer of contemporary orchestral and chamber works for the concert stage but also as a versatile dramatic composer and conductor of film and television music. 
He was born in 1957 in Anaheim, California, where he began the study of instrumental music at the age of nine and composition at the age of twelve.  Serious musical education followed at the University of California at Los Angeles, in addition to individual study with numerous composers including Henri Lazarof and Albert Harris. His compositions have been performed at the Monday Evening Concerts at the Los Angeles County Museum of Art, as well as at numerous contemporary music concerts and festivals by ensembles such as The California E.A.R. Unit, The Los Angeles Master Chorale, XTET, the Arditti Quartet, the New Hollywood String Quartet, the Debussy Trio, the Rundfunk Kammer Orchester of Amsterdam, and at recitals of individual instrumental and vocal artists from whom he regularly receives commissions.
His Afterimages for violin and piano was a finalist in the Dutilleux International Composition Competition and was later performed at an IRCAM Artist Series concert at the Pompidou Center in Paris by Maryvonne Le Dizès and Dimitri Vassilakis of the Ensemble Intercontemporain. His full-length opera Río de Sangre was premiered in October 2010 by the Florentine Opera Company in Milwaukee, Wisconsin, with the Milwaukee Symphony Orchestra conducted by Joseph Rescigno. Excerpts from Río de Sangre were premiered as a concert suite by the Los Angeles Master Chorale and Orchestra under the direction of Grant Gershon in November of 2005 at the Walt Disney Concert Hall in Los Angeles, and Albany Records is releasing a CD of Río de Sangre's world premiere recording in September, 2011. His string quartet Bleeding Particles has been released on an Albany Records CD of West Coast composers performed by the Arditti Quartet, and his piano piece Illicit Felicity was released on Gloria Cheng's Piano Dance: A 20th Century Portrait on Telarc Records.
Mr. Davis has earned a great deal of recognition of achievement including a first prize in the ICA/Taper Foundation Commission Competition, a Prize in the 1983 International Gaudeamus Musicweek, a Second Prize in the 1983 Valentino Bucchi Composition Competition for String Quartet, three B.M.I. Awards to Student Composers, two A.S.C.A.P. Foundation Grants to Young Composers, a Second Prize in the Symposium V for New Band Music, and two Emmy Awards. He has composed numerous film and television scores, including the Warner Bros. feature film trilogy The Matrix, The Matrix Reloaded, and The Matrix Revolutions.